The Dominance of IoT in the APAC Region Continues Amidst Challenges
By CIOAdvisor Apac |
Tuesday, August 27, 2019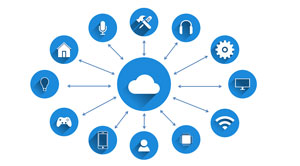 The Internet of Things (IoT) is evolving at a considerable rate as businesses, governments, and customers are beginning to identify the advantages of connecting their devices to the internet. The emergence and potential for IT to be critical for future businesses hold true for the entire world and the Asia-pacific region in particular.
FREMONT, CA: Considering the increasing dependency on technology, it is not surprising that IoT is trending. In fact, IoT is expected to be the key driving factor as far as the future of business is concerned. This is applicable to household internet of things as well besides businesses. The IoT is being viewed as a technology which can bring new capabilities in the APAC region. The area comprises of some of the top global economies including India, Japan, China, South Korea, and Australia. The technology has long ceased to be an overhyped concept, and IoT deployments are finally making its way towards both public and private sectors across industries in the area. Enterprises plying in the APAC space are quickly realizing the importance of IoT solutions and are also making investments accordingly.
The high popularity of IoT is directly proportional to this increasing readiness of enterprises in the area to implement, finance and operate IoT solutions. Along with the emergence of IoT, certain technological trends are beginning to make huge impact on enterprises and the business world in general in the current year and beyond.
The Evident Obstacles
Interestingly, amidst the opportunities associated with the emergence of IoT, it is imperative for the enterprises and business owners to consider the factors that can pose potential risks to its growth.
For instance, cyber security is capable of limiting IoT growth if care is not employed. It is a positive trend that enterprises in the region are focusing more on prevention of cyber threats. Further, many business leaders are still in the dark to a considerable extent as to carry out IoT deployment to drive organizational benefits on its journey towards digital transformation.
Furthermore, with devices connected as part of the IoT network keep increasing, physical machines and the involved sensors turn increasingly vulnerable to increasing threats from cyberspace. As a result, cyber security has turned into a critical issue when it comes to the proliferation of current IoT devices. Tactical imperatives for development opportunities are also included to emphasize on key potential areas.
Also, many a time, there is a lack of sufficient technical knowledge with respect to data analytics in the case of many organizations.
The Budding Trends
What chiefly led to the popularity of IoT in the region and the current business landscape is the increasing complexity of the latter. Through IoT, it has been possible for enterprises to capture valuable data from different aspects of their operations and business strategies. Enterprises having a future-oriented approach would have significant dependency on real-time data and insights into these forms of data for efficient and competitive management of business.
Considering the current year, two critical business trends are found to assist businesses to have a productive approach towards IoT deployment. These are the increased use of insights that are powered by data at the forefront and high-end analytics in the APAC region.
In 2019, the priority is likely to shift towards the 'small actionable data', which is accessible within a workflow and is specific to use cases for solving problems while trying to arrive at the desired outcomes. The business world should empower the front line with respect to a multitude of channels for creating conversational systems, which empower machines and people to make effective communications with an aim to drive future-oriented businesses strategies.
Among others, the manufacturing sector has been leveraging the benefits of IoT. In several manufacturing plants, IoT-powered predictive maintenance is found to bring down equipment failure, thereby enhancing employee productivity and the ability of the plant to cope with an ever-increasing productivity target.
For fleet operators, Telematics provides the opportunity to trace and track locations of their trucks, fuel utilization, and mileage. Relying on these, it has been possible to overcome the challenges such as improved consumer experience, pilferage of goods and employee safety issues.
As another example, the Brick-and-mortar retailers are making use of the available IoT technologies including AR and RFID and also are tracking football patterns. The tracking of football patterns, would enable retailers to compete with leading e-commerce enterprises by making it possible to extend better consumer experience. Also, analytical tools to assess customer behavioral patterns within a store are facilitated to retailers through the use of IoT.
In a nutshell, as far as the APAC area is considered, the IoT is still in its nascent stages of development and implementation. However, the growing interest in deploying, operating and investing in IoT technologies is evident than ever before. The challenges in deploying IoT are being analyzed and addressed. Several enterprises are getting involved in implementing and testing the proof of concepts as well. In this regard, government bodies are setting an example by deploying IoT solutions for addressing most impending concerns with respect to public safety, tracking, traffic management, and border control. Also, through its implementation, the region is planning to enhance fundamental access to education, healthcare, and several other social issues.
Challenges towards complete utilization of IoT still exist. However, there is increased awareness and more attempts are being made to tackle them. While some enterprises are stuck due to lack of technical knowledge of the above mentioned challenges in continuous and effective deployment of IoT, many have a different story to tell. Organizations which have already implemented IoT successfully are witnessing considerable improvement with respect to their employee productivity, customer metrics, and optimization of business process.