The Impact of IoT on the Financial Landscape
By CIOAdvisor Apac |
Thursday, January 01, 1970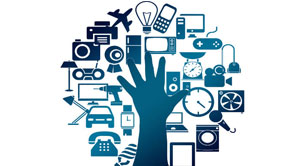 Today, the Internet of things (IoT) is not just a buzzword but a necessity to stay afloat in the competitive business world. With its innumerable capabilities, IoT can bring dramatic transformation across various industries such as retail, manufacturing, transportation, energy, and financial services.
There are staggering stats that suggest the IoT network is expected to include about 25 billion devices by 2020, leading to a global economic benefit of $2 trillion. One of the most important benefits of IoT in the financial sector is, banks can utilize IoT-driven sensors and analytics to gather more information about customers and offer personalized services.
---
Suggested Read: The Internet of Things, in the Real World
By Manuel Bautista, CIO, Harvard Maintenance
---
Additionally, it also helps in improving customer services by providing value-added services and financial assistance when needed. Insurers and commercial banks can also use these sensors attached to assets— equipment, loans, or holdings of deposits—to track shipments.
There are a number of benefits that IoT offers to the financial landscape which include real-time data collection, improved customer service, simplified decision-making processes, automated payments, and security. Using IoT, data can be collected in real time and the up-to-date information can then be provided to the user. For instance, using real-time data collection, a customer can provide all the necessary information about a car to an insurance company within a matter of few seconds. Furthermore, IoT also helps in fraud detection.
Over the last few years, cybercrime has become a key issue everywhere, but IoT systems can help protect enterprises by improving their endpoint data security and advancing the fraud detection systems. Mobile payment services which are currently on the rise will soon become dominant because of IoT, as it will enable secure payments across connected devices, from anywhere and at any time. Voice recognition devices, sensors, and scanners will provide the required security level to make hands-free payments possible.
Despite various setbacks that make it harder for the banking sector to start adopting IoT, it is time that financial companies start incorporating IoT in their roadmap if they want to truly innovate and provide customers with experiences that exceed the expectations.
---
You may like: Targeting Analytics to Realize the Value of IoT: 3 Key Elements to Make it Work
By Lionel Chocron, Vice President Industry and IoT Solutions, Oracle