The Prominence of Contact Centre in Business
By CIOAdvisor Apac |
Monday, November 04, 2019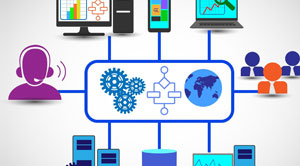 As a part of enterprise's overall customer relationship management, contact center offers omnichannel customer support which includes emails, chat, VoIP (Voice over Internet Protocol) and website support.
The enterprises use the contact center to send and receive massive volumes of requests. The contact center is operated to administer product support or information from consumers. Contact center manages outgoing calls for telemarketing and clientele. The contact center is an addition to a call center which keeps the collective handling of letters, emails, and faxes at its location.
The Capabilities of the Contact Center
The necessity to support communications in an on-scenario, the company which owns contact center manages its hardware and software. They are also used for inbound and outbound communications or a hybrid of both the communications interacting with customers via emails, webchat, phone or other communication channels.
Check out: Top Contact Center Technology Solution Providers companies
The Infrastructure of Contact Centers
The framework of contact center infrastructure is composed of the virtual and physical resources that function effectively. Automated call distributors, integrated voice response units, queue management, and computer-telephony are few infrastructure components of contact centers.
Interactive Voice Response is one of the contact center technologies that plays a crucial role in delivering consumer experience. The Self-service has also become a part of the modern contact center infrastructure enabling customers to solve few low-level the issues or problems on their own without any agents help.
The integration of intelligent applications such as Speech analytics, CRM (Customer Relationship Management) marketing, service databases, ERP (Enterprise Resource Planning), finances and so on enables companies to analyze the effectiveness and productivity of contact center operations.
Check This Out:- Top Workforce Management Solution Companies
The Technologies used in Contact Centers
The enabling of contact information to be routed is done by using specialized contact center software. The contacts can be tracked, and the data is to be gathered.
The technologies within contact center include several systems such as ACD (Automatic Call Distributor), Email response management, IVR, Knowledge management, Workforce management and TTY (Text Telephone) or TDD (Telecommunication Device for the deaf) communications.
Future of Contact Center
The contact center trends and technology has evolved, and customers rely on more communication platforms or channels. The contact centers continue to change the patterns of communications which include social media, Mobile accessibility, advanced analytics video telephony and so on.
Key contact center companies: Arbeit Software, CentralTouch Technology, Empirix