The significance of Blockchain dApps
By CIOAdvisor Apac |
Monday, March 25, 2019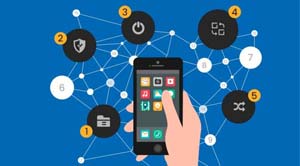 In the realm of the blockchain, specific criteria is set for an application to be considered as a dApp. The application must be a completely open-source. Also, the data and records of the application of operation must be cryptographically stored in a decentralized public blockchain. Further, the criteria include that the application must use a cryptographic token, and also the application must generate tokens too.
dApp runs on P2P (Peer-to-Peer) network of computers rather than a single computer. It connects a user directly with itself removing some of the issues of trust and security. dApp manages peer-to-peer transactions and has a robust decentralized network of active users. It also helps in referring to insurance applications where the money is involved but is not a direct element of the system. dApp has a developmental process that includes;
Token sale systems
It is the initial sale set up for a dApp developmental process. The on-blockchain token systems represent the smart property and secure unforgeable coupons. The token system has no ties to traditional value and is used as point systems for incentivization.
Implementation and launch
The funds are invested in building dApp and launching it with all the required features and services.
The Decentralized File Storage
Decentralized file storage splits the desired data into blocks with smart contracts. It encrypts and secures each block for privacy. It builds a Merkle tree to distribute the whole data across the network.
DAOs (Decentralized Autonomous Organizations)
Conceptually, DAO largely overlaps with the dApp. Then what is DAO? DAO is a virtual entity which has a specific set of members or shareholders who with 67 percent of the majority have the right to spend the entity's funds and more autonomy. It also modifies the code and the members collectively decide on how the organization should allocate its resources.