When Marketers Run Technology, Where Does IT Fit?
By CIOAdvisor Apac |
Thursday, November 21, 2019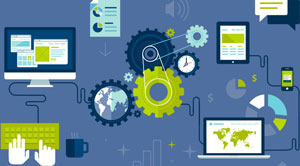 Providing a remarkable customer experience is not just dependent on the marketing department as it needs assistance from IT as well.
Fremont, CA: Chief marketing officers (CMO) play a monumental role for brands as they assist in cultivating and engaging the customers. As the CMOs tried to identify smart and relevant ways to deliver growth, they amassed a pile of new marketing technologies. There are numerous software vendors across dozens of categories offering their solutions to the marketers. According to a survey by Gartner, in 2019, 29 percent of the marketing budget is dedicated to technology, taking away the share from areas such as agencies, paid media, and labor. CMOs express that they are incorporating technologies into their budgets to compete effectively with their competitors and deliver a more personalized experience to their customers. Lastly, they view marketing technology acquisition vital for the future as it may contribute to the goals of the coming years.
Marketing technology or "martech" requires more deployment and usage flexibility. In a different Gartner survey, marketing leaders admitted that they are taking more responsibility to manage technology. Overall, 74 percent of marketers said that they are mainly responsible for technology management for their team. While 23 percent said, that split the martech technology by half with the IT department. Only 3 percent were comfortable with outsourcing the job to an outside marketing group. Even though the marketing department handles martech, the involvement of IT is extensively required for several martech activities such as vendor evaluation, configuration, deployment, and integration. The IT department can assist marketers by selecting technology that fortifies the business capabilities.
The IT department assists contracting, vendor management, security and privacy practices, and scalability requirements. Especially with the General Data Protection Regulation (GDPR), marketers must re-examine their privacy and data management practices. The IT department can guide the marketing department to comply with privacy requirements. Furthermore, they assure that the existing marketing systems and databases are secure. Lastly, the IT department assists in assessing new vendors. The most successful collaborations between the IT and marketing department involve critical marketing applications and their shared business and technical ownership. Lastly, it depends on the shared metrics that focus on the outcomes as well. Marketers must understand that providing excellent customer experience is a collective effort and goes well beyond the function of marketing.