AI with Human Touch: Can Manufacturing Achieve its Full Potential?
By CIOAdvisor Apac |
Friday, August 09, 2019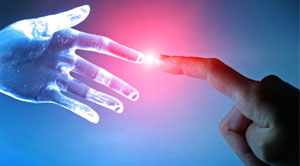 AI is not restricted only to tech companies; in fact, it is being pursued across all other sectors including agriculture, healthcare, banking, financial services, and manufacturing. AI is even implemented in the fields of defence and security. The manufacturing sector has a keen interest and a sense of optimism regarding the impact that artificial intelligence can have. AI has already gained mainstream attention in news and media and is considered as the technology for the next phases of innovation and the world's economic boom. AI with giant technologies like IoT, AR, and VR is known to be the building blocks of the fourth generation of the industrial revolution and has evolved as an important technology. Since then, the business leaders are leveraging the technologies to augment human workers and increase the efficiency and productivity. Will artificial intelligence eliminate the human workers altogether from the enterprises? Unfortunately, the reality might be hypothetical. In fact, the future will be a hybrid work environment where both humans and artificial intelligence will work in conjunction.
AI's impact on employment in the future has remained a huge question. It is clear that the technology implementation will see manual labor and the decline in the manufacturing jobs. According to statistics collected by the Office of National Statistics, it was estimated that over 17 percent of manufacturing jobs were lost in the UK over the past decade and this was only the result of automation. However, based on the study conducted by the consulting firm A.T.Kearney and start-up Drishti, though the robots are employed in the industries, there is still a human requirement in the majority of manufacturing tasks. Humans perform more than 72 percent of manufacturing tasks and generate almost equal proportions of value. In the process of this study, researchers explained their views about human importance in the AI space and confirmed that, at least for now, human labor remains important in the industries. Eventually, this report states that 73 percent of variability comes from human workers and not from machines.
Ultimately, the approach of the human toward the technology decides what's tomorrow and what it brings. The future looks brighter for those who choose to embrace AI and the opportunities that the technology provides. Due to the advent of AI, there is a need for re-skilling of human workers for new age employability around human-AI collaboration.
Check This Out: Top Manufacturing Execution System Companies