Edge computing - strengthening cloud infrastructure
By CIOAdvisor Apac |
Friday, November 30, 2018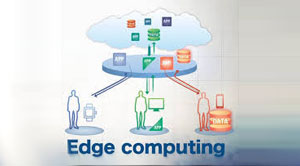 Mobile internet and internet of things (IoT) applications are developing rapidly, for this the conventional centralized cloud computing is facing some challenges as high latency, low spectral efficiency, and the non-adaptive machine type of communication. To solve the problems, a new technology is driving that shifts the function of centralized cloud computing to edge devices of the networks. The edge computing is a part of distributed computing topology where information processing is located close to the edge.
Edge computing is taking some of the power of cloud computing and bring it closer to devices, located near the end, or edge, of the network. In an edge computing architecture, time-sensitive data are processed at the point of origin by an intelligent device or sent to an intermediary server located in close geographical proximity to the client. The data then is sent to the cloud for historical analysis, big data analytics, and long-term storage.
Following are some of the challenges cloud computing faces which can be modified by edge computing:
Latency: in the cloud computing it takes times to process and analyze captured data. Edge computing reduces the latency issue by immediately analyzing the data with the sensor or a nearby processing device.
Reducing loads on internet networks: Huge amount of data leads constrained and poorly-performing networks. Edge computing helps in reducing load by processing some of the data closer to where the data is collected. Also, by moving the processing of data away from the cloud helps to minimize load in the network.
Lowering data management costs: Storing a huge amount of data in the cloud and downloading the data from the cloud increases cost. Also, higher bandwidth cost has to be paid to transfer data to the cloud. Storing and analyzing the data at the edge helps in cutting down the costs.
Improving privacy and security: In cloud computing, one of the primary concerns is security. Edge computing minimizes that concern. When a device is running an outdated Linux distribution, is vulnerable but has access to the network making the information more vulnerable. The concern isn't for the stored data in the cloud but about the transfer of data over a network to the cloud. Storing the data in or closer to the devices improves privacy and security.
The cloud plays an intrinsic role in aggregating data and performs analysis of the massive set of information and provides insights that are distributed back to the edge devices. The combination of edge and cloud computing helps in managing and analyzing data and increasing the value of IoT devices.