IoT Infrastructure Security With Blockchain Technology
By CIOAdvisor Apac |
Wednesday, April 03, 2019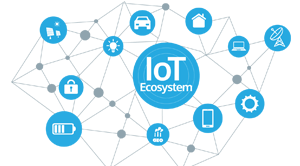 With the advancement of technology and more variant functionalities to use IoT, the modern era is driven by to stay connected online with all means and no errors. Blockchain technology which is known to be the golden revolutionary in the information science and technological fields has come to save IoT with its brilliant security and network system providing safe and error-free features for the use of consumers and companies in the market.
IoT Infrastructure
IoT devices have a significant impact as customers to companies grossing over $8 trillion in recent years is expected to grow more with new modifications and upgrades in the use of IoT infrastructure devices and security. The cumulative data which is connecting and exchanging the information is trying to give a comprehensible performance and deals with the threats in the way of industrial internet of things (IIoT). With evolved multiple technologies, machine learning, real-time analytics, embedded systems IoT has gained massive attention of the millennials and security software developing companies.
Blockchain Technology
The tried and tested technology of the present day is blockchain security technology which secures transactions and ensures trust of security. The format of storing the information and details of a client or company in the hands of only a few authentic authorities, makes it secure with encryption mode, giving no access to any internet attackers or system hackers.
The online systems of blockchain include cryptocurrency, digital mining, hash, nodes, encryption, forks and so on which makes the system work in a very chronological method without any hindrance or mistakes. SDP architecture enhances the cybersecurity solution based on blockchain technology which remains influential in resolving the vulnerabilities of cyber attacks and viruses from a different source of hacking. It gives complete satisfaction and protection for online transactions and data synchronization, and essential information makes it a more approachable cybersecurity provider.
Blockchain has every device registered under the identification network making it easy to recognize the registered device with unique digital ID on the blockchain platform.
Being fast and smart in the current modern era means you need to have a "Smart Healthcare" protection for your IoT devices and infrastructure security for smooth usage of the applications.